Articles
First, you need to know which court is handling your case.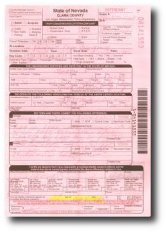 Types of Courts in Clark County
There are two types of courts that handle traffic cases in Southern Nevada. First, there are Municipal Courts. Municipal Courts have jurisdiction over most traffic cases that arise within the city limits. There are five Municipal Courts in Clark County, Las Vegas, Henderson, North Las Vegas, Boulder City and Mequite. The municipal courts also handle other misdemeanor criminal cases that arise in the city limits.
The second type of court that handles traffic ticket cases are the Justice Courts. Justice Courts have jurisdiction over any traffic ticket case within the county. Generally speaking, there is one Justice Court per township within the county. In Clark County, there are eleven Justice Courts: Las Vegas, Henderson, North Las Vegas, Boulder Township, Bunkerville Township, Goodsprings Township, Laughlin Township, Mesquite Township, Moapa Township, Moapa Valley Township and Searchlight Township. Besides traffic cases, the Justice Courts also handle other misdemeanor criminal matters, felon preliminary hearings and civil cases where the amount in controversy is less than $10,000.00.
How to Check the Status
If you were given a traffic ticket in the Las Vegas area, you can check the status for most cases online at the Las Vegas Justice Court website, www.clarkcountycourts.us/online. Just click on the View and Pay Traffic Citations Online link and search by your citation number or name.
If your case is in one of the other ten Justice Courts in Clark County, you can search for your case record (using MS Internet Explorer 7, 8 or 9 ONLY, not 10, not Chrome, not Safari nor any mobile browser) here: cvpublicaccess.co.clark.nv.us/pa/.
City of North Las Vegas Municipal Court cases may be found here: www.cityofnorthlasvegas.com/pa/.
City of Henderson Municipal Court cases (using MS Internet Explorer 7, 8 or 9 ONLY, not 10, not Chrome, not Safari nor any mobile browser) can be found here: hmc.cityofhenderson.com/pa/.
City of Las Vegas Municipal Court cases can now be found online here: municourt.lasvegasnevada.gov/, or you can call the court at (702) 382-6878. You can also look up the violation and the expected outcome here: www.lasvegasnevada.gov/Pay/violationLookup.htm. If you know the case number, case records can be found here: www.lasvegasnevada.gov/Government/28413.htm.
If your case is in the Boulder City Municipal Court, you will need to call the court at (702) 293-9278 to determine the status of your case.
Warrants and FTAs
If the traffic ticket status says warrant, bench warrant, arrest warrant or FTA, then call us for a free, confidential consultation so we can advise you how to clear up these matters and reduce the court fines and fees. We can help you with DMV clearances and warrants and we can help lower the fines in most cases.
Free Consultation
The LV Traffic Ticket Guy can help with your traffic ticket case in any Traffic Court in Clark County. Call us to speak with a licensed attorney for a Free Confidential Consultation at (702) 582-9110.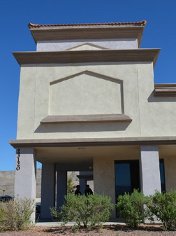 The Goodsprings Justice Court caters to the Goodsprings Township and deals in an array of civil offenses and legal affairs. The Justice of the Peace who heads the Justice Court has a fixed term of six years pending the subsequent election. The Goodsprings Justice Court deals in civil offenses like traffic tickets or speeding tickets, misdemeanor cases, holds preliminary hearings, issues bond forfeitures, evictions and civil matters involving amounts of up to $10,000. The Justice also has the right to grant bail, to issue arrest or search warrants, summonses or protective orders.
The Goodsprings Justice Court is located at 23120 Las Vegas Blvd, Jean, NV 89019. The contact details of Goodsprings Justice Court are – Telephone: 702-874-1405, Fax: 702-874-1612 and Email:  This email address is being protected from spambots. You need JavaScript enabled to view it. . The mailing address is Goodsprings Justice Court, PO Box 19155, Jean, NV 89019.
One of the most common offenses that Goodsprings Justice Court deals with are traffic tickets or speeding tickets. Those who have been cited for traffic violations need to pay a fine or appear in the court to challenge the traffic ticket. While it is not recommended, a defendant in a traffic ticket case may plead guilty and pay the fine without having to appear at the court by using a number of the accepted payment methods prior to the date mentioned on the traffic ticket or citation.
The traffic court at Goodsprings Justice Court is held on Wednesdays at 9.30 a.m. Those who wish to challenge the citation or seek further legal proceedings should appear in person at the court with all official documents. The records to be taken include the traffic ticket or speeding ticket, insurance papers, registration details or licenses along with identity proof that confirms residence and contact information.
The Goodsprings Justice Court may also be contacted by mail, fax or email for any correspondence before the date on the citation and all such correspondences should have the details of the case, the citation number along with name, address and phone number of the person issued the traffic ticket. The accepted payment methods include Visa, MasterCard, cashier's check, money order and cash. Cash payments are only accepted at the clerk's desk that is to be paid in person.
A lawyer who practices in the Goodsprings Justice Court may make an appearance on behalf of a defendant for minor traffic violations and, in most cases, can ask for a reduction of the charge and fine.
If you have questions about your Goodsprings Justice Court case, contact the Las Vegas Traffic Ticket Guy today.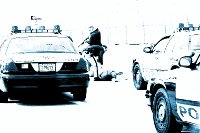 This article addresses the steps that you should take when you are pulled over. If you follow these steps, the nerve-wracking and anxiety-producing unpleasantness of the experience should be minimized.
The information in this article comes from a variety of sources, including my own way-to-many personal experiences of getting pulled over.
Step One: When you see an emergency vehicle behind you, pull over to the RIGHT side of the road and stop as soon as it reasonable and safe to do so. It does not matter if it is a police car, fire truck or ambulance, the law requires you to pull to the right and stop when an emergency vehicle is behind you and is displaying its emergency lights. This does not mean that you have to stop in the right travel lane if there is no shoulder. You should proceed to place where the officer and you will be safe. If the emergency vehicle passes you, you may proceed. Do not forget to use your turn signal and turn on your flashers when you have stopped.
Step Two: Keep your hands on the steering wheel. If you have electric windows it may be a good idea to punch the down button as soon as you pull over so you can hear anything the officer says as he or she approaches. If you have manual window cranks, you may want to wait for an instruction to roll down the window so the officer can see exactly what you are doing with your hands. An officer will feel a lot safer and more comfortable with you if they know where your hands are. If they can't see your hands, they are not going to know if you are trying to hide something, or reaching for a weapon. Please note that you can't keep your hands on the steering wheel if you are trying to get out of your car. Do not get out of your car unless instructed to do so by the police officer.
Step Three: Wait for instructions. The officer will tell you what he or she would like you to do. If the officer wants to see your license, they will ask for it. At this point you are going to have to move your hands to comply. The best practice is to let the officer know that you are going to be digging in your pocket or purse for your license. This is also true for your registration and insurance card, let them know where it is. I knew a guy once that was pulled over while he was on his way to officiate a high school track meet. He kept the starter pistol in the glove box. When the officer asked for the registration, the guy popped open the glove box, revealing the starter pistol. The guy was lucky to survive! If you have a starter pistol in the glove box, you may want to let the officer know before you reach in there for the registration certificate.
More information to make your next traffic stop easier: 
Plan ahead. Be prepared. You know that your vehicle needs to be registered and insured and that you need proof of that when you are driving. Make sure it is in the car. I have had many clients tell me that they were pulled over in someone else's car and did not know that the vehicle was not registered or insured. The only thing I can tell them is that they should have checked before getting in the car and driving it down the street. Other clients tell me that they had insurance, but they could not find the current proof to show the officer. The no proof of insurance charge is easily dealt with by showing proof of insurance to the court. However, in every single case where a client has received a ticket for no proof of insurance, that particular charge is always the second charge listed on the ticket. Why? Because that is not why they were pulled over in the first place and the officer has to show the court that there was probable cause for the stop, so they have to include at least one other charge on the ticket. In some of those cases, if the client had their paperwork straight when they were pulled over, they may have been let off with a warning for the original charge.
Be polite. There are some exceptions, but most police officers could care less what you think of them personally. However, by using phrases like, "yes sir" or "no ma'am" it lets the officer know that you respect them and are less likely to try to harm them. On the other hand, when an officer is just trying to do their job and you are cursing at them and saying bad things about their mother, they are more likely to see you as a threat. 
Try an apology. In some cases, if you are sincere and apologize for your infraction the officer may let you off with a warning. Do not try that with a Las Vegas Metropolitan Motorcycle Officer. As far as I can tell, motorcycle officers have only two jobs, one is to investigate accidents and the other is to hand out tickets. Furthermore, I am certain that motorcycle officers have a quota of tickets that they have to write. If they let you off, they will have to work extra hard to fill that quota and that just isn't going to happen. An apology could be construed as an admission of guilty. If they caught you red handed doing something you were not supposed to do, you may not have anything to lose. On the other hand, if you are not sure why you were stopped, you may want to forgo any apology.
Watch what you say. Don't speak first. Especially don't start off with a defensive or hostile "What's the problem?" or similar words. Let the officer start talking. The officer might start by asking you the sort of question whose lack of a definite answer would imply guilt, like, "Do you know why I stopped you?" Or, he or she might ask, "Do you know how fast you were going?" Your answers, if any, should be non-committal and brief, like a simple "No, I don't know why you pulled me over" or a very confident, "Yes, I do know how fast I was going." If the officer then tells you how fast he or she thinks you were going or what he or she thinks you did, don't argue. Give a noncommittal answer, like, "I see," or no answer at all. Silence is not an admission of guilt and cannot be used against you in court.
Don't do anything stupid. There are a number of things you can do to make a simple traffic stop and minor traffic ticket much, much worse, all of which should go without saying. Don't panic, don't run, don't threaten or try to fight the officer, don't throw anything out the window or reach under the seat of the car for any reason. In general, just don't do anything stupid.
If you want to be sure that you never give an officer cause to pull you over, ride the bus. If you get pulled over and receive a ticket, contact Attorney 
Joseph R. Maridon, Jr.
, the LV Traffic Ticket Guy!
What you need to know about the Las Vegas Justice Court
Clark County, just like other counties in Nevada has a justice court system. The County is divided into townships and each township has its own justice court. Each justice court is presided over by one or more justice of the peace, or judge.
The justice court judges are elected and normally serve a four-year term. The justice courts have jurisdiction over misdemeanor criminal cases and civil cases where the amount in dispute is less than $10,000.00. The Las Vegas Justice Court normally deals with cases such as:
Landlord and tenant disputes
Small Claims cases - cases involving money disputes less than $7,500.00
Traffic Tickets and Criminal traffic offences such as DUI's
Other allegations of misdemeanors such as shoplifting, bouncing checks, violating restraining orders among others.
The justice court judges also preside over the preliminary hearings in felony cases. There are several justice courts in Clark County. Each one of them is governed by the same laws that apply to the rest of Nevada's judicial system.
How the Las Vegas justice court operates
The sole purpose of the justice court is delivering justice on cases that are qualified to be placed in the categories named above. In order to do this, the court normally holds hearings where both sides of the case are presented. For instance, if you violated a restraining order and a complaint was filed, a Las Vegas justice court judge will preside over the case. The judge is supposed to make a ruling based on the evidence presented. In some cases a jury may be used to determine factual issues. The verdict can be acquittal, a fine of a certain amount of money or even a jail term in some cases.
In order to carry out these functions smoothly, the court normally needs several court officials. The officials that you will find in a Las Vegas court of law, besides the judge are court clerks. A clerk is normally assigned to the Justice of peace to help him with the recording of proceedings and other paperwork related to judicial proceedings. In busy justice courts, you may also find a court administrator.
Requirements to become a justice of peace in a Las Vegas justice court
In order to become a justice of peace in a Las Vegas justice court, you must be a resident of Nevada. In most courts, the justice of peace is usually an attorney. However, in the less populated townships, there is no requirement for the justice of peace to be an attorney.
This article provides a very brief overview of the Las Vegas Justice Court. Unless you are familiar with the rules of the court, and how each judge may handle a particular case, if you have a case in the Las Vegas Justice Court, your best option may be to hire an experienced lawyer that deals with cases in the Las Vegas Justice Court on a daily basis.
One
Myth - Traffic Ticket Lawyers are a waste of money.
Truth - Traffic Ticket Lawyers often save their clients time, frustration and money.
Two
Myth - Traffic Ticket Lawyers can't possibly get a speeding ticket reduced to a parking violation without traffic school.
Truth - The courts will reduce the charges on almost every moving violation if the offender agrees to pay the fine within a certain period of time.
Three
Myth - Traffic Ticket Lawyers always get the fine reduced.
Truth - The fine is almost always part of the negotiation, but the court will not reduce the fine in every case.
Four
Myth - Traffic Ticket Lawyers always go to court for you.
Truth - Many courts allow attorneys to negotiate traffic citations by sending a request in writing.
Five
Myth - Traffic Ticket Lawyers get the best deals for their clients.
Truth - Traffic Ticket Lawyers cannot always get you a better deal than you can get on your own.
Six
Myth - Traffic Ticket Lawyers will get the case thrown out of court.
Truth - Traffic Ticket Lawyers will almost never get your case dismissed through negotiation, but you have a right to go to trial if you believe you were wrongly accused, where, if you win, your case will be dismissed.
Seven
Myth - One Traffic Ticket Lawyer is just as good as any other.
Truth - Some Traffic Ticket Lawyers deal with so many tickets that it is impossible to know one client from another. These lawyers are not able to negotiate tickets on an individual basis. Instead, they negotiate in bulk, and in almost every case, they take whatever the court offers, without question.
Eight
Myth - It is cheaper to just pay the fine than hire a Traffic Ticket Lawyer.
Truth - It is almost never cheaper to pay the fine than to hire a Traffic Ticket Lawyer. Even in cases where the fine is not reduced, if the lawyer can get the charge reduced to a non-moving violation, you will not see the inevitable increase in your auto insurance premiums, which can last for years.
Nine
Myth - Hiring a Traffic Ticket Lawyer guarantees that I will win my case.
Truth - There are no guarantees of any particular outcome.
Ten
Myth - The best way to avoid a moving violation on your record is to hire a Traffic Ticket Lawyer.
Truth - This is true if you have already received a ticket, but the absolute best way to avoid a moving violation on your record is to not get one in the first place.
---
We are here to help! If you have any questions, contact Attorney Joseph R. Maridon, Jr. today!